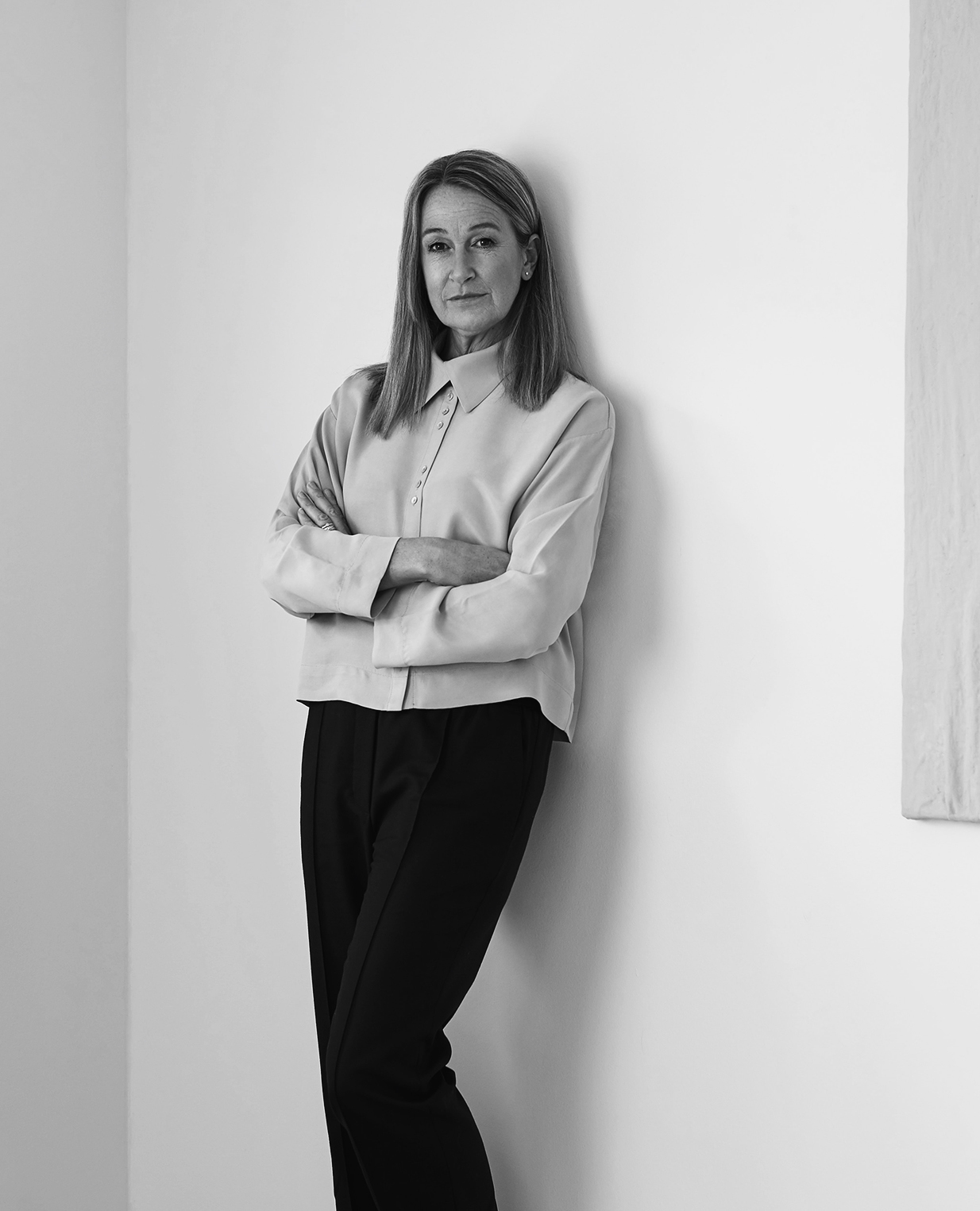 Next door to the barren rocks and the rugged landscape of the Bohuslän archipelago Anette works from her studio outside of Gothenburg. An interior designer by training and with many years of work experience from the fashion industry, Anette has a long-time passion for the visual craftsmanship of interior designs as well as architecture and the creative process has always been a critical part of Anette's life. Since a few years Anette dedicates fully to her artistry and she has since hung her art with clients across the globe from Seoul to London, New York and Dubai.

Through her art Anette explores colors and subtle patterns from Nordic nature as well as the Scandinavian heritage of minimalistic design. With a strict attention to detail and an experimenting mindset towards combinations of materials, her work balances a generous palette of impressions with a personal inclination towards the simple yet refined.

Anette's artworks are defined by sculptures and three-dimensional minimalist patterns that makes each artwork unique and individual. The patterns are given simplistic and descriptive names in line with her sources of inspiration.
Interview from Alium Gallery, Copenhagen, Denmark
Name
Anette Hallbäck
Country
Sweden, Gothenburg
Career
I started my career in the retail fashion industry. After some years I studied to become an interior designer and since graduating I worked as a stylist/interior designer. Being creative has always been an important part of my life and as long as I can remember I've always loved to draw and create things with my hands. For the last few years I've had the opportunity to spend the majority of my time making my art and working as an artist.
Larger achievements
I am very proud of the attention my artworks have gained internationally both from individual clients and from large interior designer firms who have included my art in their projects. Today I have hung my art with clients across the globe from Seoul to London, New York and Dubai.
Style
My artworks are defined by sculptures and three-dimensional patterns. This make each artwork unique and individual. The patterns represent a simplicity that is timeless, minimalistic yet with a tactile texture.
What does your artworks aim to say or do?
I want my art to have a central role in my customers' home and interior, it should create harmony and an austere feeling. I think the final touch for creating a beautiful home is adding art. I feel that my customer is longing for something handmade and unique.
Where do you go to get inspired?
I find my inspiration in many things and situations but especially from the Scandinavian nature and sea. There I see my patterns form. Since I've worked with fashion before, I also find my inspiration there, in the nuances and colors that I want to work with.
At what state of mind is your artworks best created?
To get into the ideal state of mind I need a calm day with plenty of time to get into a creative process. Then I can reflect on all the influences and impressions gathered and gain thrilling visions to experiment from. From there on many cups of coffee and atmospheric music supports the artistic process.
Does your art practice have any limitations? Good or bad? Do you work around them or break them down?
Right now, I focus a lot on plaster as a material. I like how it carries my artistry by enabling me to create so many different shapes, forms and designs. Working with plaster have many limitations including the quick drying process and the clogging however with experience as well as experimentation I´ve learnt to work around these and incorporate the materials unique behaviours in the creative process.
Who influences your artworks the most?
With often raw abstract shapes and forms my artworks are more influenced by my impressions of environments and surroundings than by single individuals. Travels, both Nordic and further away, influences my artworks as I collect impressions from nature as well as from cultural objects. Impressions of the sea and the patterns it leaves behind on the beach, the structure and surface of stones polished over time by the Nordic climate, reeds and forests have all influenced my artworks. Buildings, architectural structures and sculptures further influences me as I seek to mimic and interpret the patterns.
Where is the ideal space for your art to be experienced?
Every artwork is unique and as such there is more than one ideal space. I seek for my art to contribute to an integrality and create an ensemble with the space where it is hung. Sometimes this is a harmonic room in an art exhibition with a lot of free space around and sometimes this is in a client's home where my artwork complements the interior design.
How has your art practice developed over time?
Over the years I've come to experiment a great deal with materials, techniques, patterns and colors. As I've gained in experience I've found that my art practice has become bolder. Right now, I am in a period of pervading patterns across large canvases and experimenting with colors in ways I have not done earlier.
How has your art practice developed you as a person?
My art practice has enabled me to acquaint many interesting individuals as well as given me so much motivation and energy through meetings and travels. Further I find that, as my art practice has evolved and become bolder, so have I. I´ve grown more confident in expressing myself through my art and to experiment with my art in a freer way. Practicing my art has also taught me to find inspiration from new sources and to channelize the creative input into my artworks in new ways.